By Christie Lutz
Two-hundred and twelve years ago today, Alexander Hamilton and Aaron Burr faced each other in a duel on the cliffs of Weehawken, New Jersey.
Among our Sinclair New Jersey Collection holdings, we have a handful of postcard views and other images depicting the Weehawken dueling grounds, which have seen some changes over the years. The 1810 image below depicts a bucolic scene, with boats gliding by on the Hudson River.
This postcard, mailed in 1919, features the boulder on which Alexander Hamilton purportedly rested his head after being mortally wounded by Burr.  The site depicted here is not the precise site of the duel, however. The boulder was moved from its original spot to make way for train tracks. And today, the bust of Hamilton sits upon a pedestal, with the boulder sitting behind it.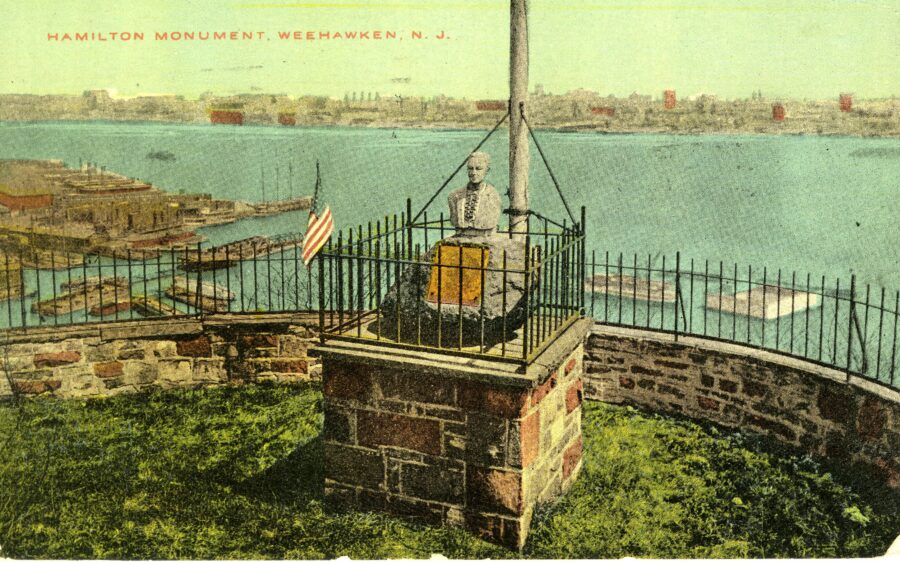 While Alexander Hamilton himself has been the focus of recent interest, Special Collections and University Archives also holds the X-Burr Collection, a collection of books on Aaron Burr that were donated to Rutgers by the Aaron Burr Society. Below is the title page from one of the books in the collection, authored shortly after the duel by Lysander, the pseudonym of federal judge Willam P. Van Ness. Van Ness was a friend of Burr's who served as his second in the duel.