By Tara Maharjan
I have always enjoyed cookbooks. I even wrote a whole blog post  about it back in November of 2015. I will post pictures of cookbooks to our Instagram page on occasion. But on one Wednesday morning in April I asked a simple question to our Instagram followers, "Is #WhatsCookinWednesday a thing?" The community of libraries, archives, museums, and historical societies quickly insisted we make this a challenge. (The #LibrariesOfInstagram community likes to challenge other repositories to post pictures of different things each month.) The month of May became a Library Feast (#LibraryFeast). To add to the challenge, it was suggested that people try to make a recipe from a cookbook in their collection.
I wandered the Special Collections and University Archives closed stacks to see what cookbook I could find. I stumbled upon Salute to New Jersey : a collection of original New Jersey recipes and historical anecdotes. Intrigued by the title, I flipped though the pamphlet to find a recipe entitled Dey Mansion Orange Cake. I enjoy baking and I thought that since Colonel Theunis Dey (the man whose family owned the Dey Mansion) was also a signer of the Queen's College charter; this would be the perfect recipe to try with a nice hint of Rutgers history.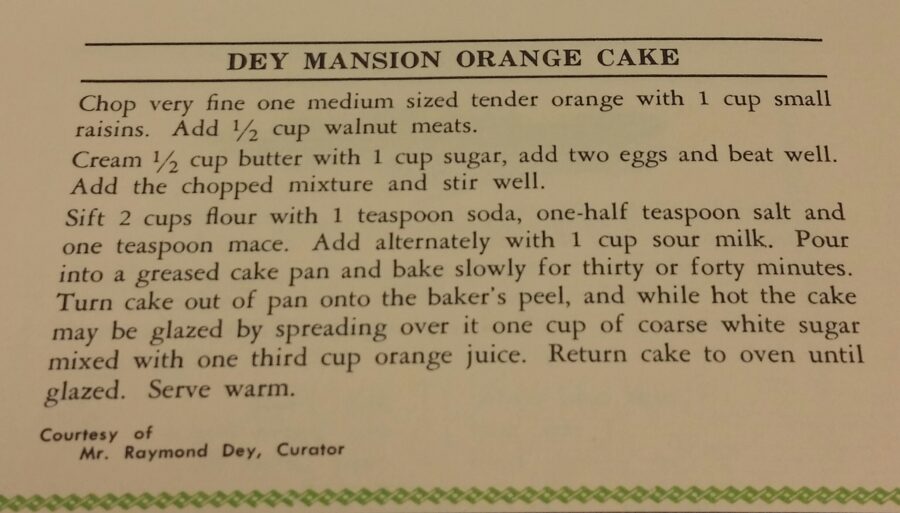 The recipe looked simple enough, though there was no size indicated for the pan, no baking temperature listed, and I was not sure I could buy mace for cooking. (To my surprise, mace is a common enough spice that it can be purchased at the local grocery store.) Three attempts later, I finally made a fully cooked Dey Mansion Orange Cake. I made a few changes to the recipe. Here is my version of Dey Mansion Orange Cake:
Ingredients:
1 stick of butter
1 cup white sugar
2 eggs
1 medium orange
2 cups flour
1 teaspoon baking soda
1 teaspoon nutmeg (or mace)
½ teaspoon salt
1 cup milk
1/3 cup + 1 teaspoon orange juice
1 cup craisins (or raisins)
1 cup powdered sugar
Bake in a 9 x 13 greased pan at 350 for 30(-ish) minutes
1) Cream together 1 stick of butter and 1 cup of sugar
2) Add 2 eggs
3) Add 1 finely chopped, medium-sized orange (I added the juice that came out of the orange)
4) Alternate adding sifted flour mix (2 cups flour, 1 teaspoon baking soda, 1 teaspoon nutmeg (original recipe calls for mace), 1/2 teaspoon salt) and milk (1 cup of milk and 1 teaspoon of orange juice)
5) Add 1 cup of craisins (or raisins)
When finished, remove from pan. While hot, spread glaze on top.
For glaze, 1 cup powdered sugar and 1/3 cup of orange juice whisked together