November 11, 2018 is Veterans Day and marks the 100th anniversary of the Armistice that ended World War I. To commemorate this centennial, What Exit?  will be featuring letters from Special Collections and University Archives' Records of the Rutgers College War Service Bureau. This collection features letters from Rutgers students and alumni who served in the First World War, describing their experiences serving in the United States and overseas. Each day between November 1 and 11, Voices of the Armistice posts will share what these Rutgers students from 100 years ago had to say about the moment when peace was declared.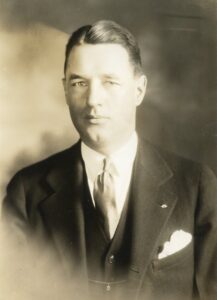 J. [John] Kingsley Powell (class of 1917) was serving with the American Expeditionary Forces in France when peace was declared on November 11, 1918. He described the experience of the Armistice in a letter to War Service Bureau director Earl Reed Silvers. His division had been in the thick of battle before another division was sent to relieve them.
"We felt pretty sore of course, just when the goal was in sight, being pulled out . . . the men were going on good old American "guts" and were about all in. That was two days before the armistice was signed and while we did start back, we had the mingled feeling of regret at leaving the game, but glad to get a rest."
On learning of the Armistice, Powell conveyed the news to his regiment:
". . . the doggondest thing about it, we all took the news about the same as we did ordinary routine orders! There was no fuss, no noise, and no change in our movements. We pulled into our camp and made ready for a night's stop—just an incident in the game. When I look back and think of it, it seems remarkable. A few of the men shot off some pyrotechnics at night, and we had the band out later for a short time—that was all. I remember the occassion [sic] as a good night's sleep—sure of a peaceful night."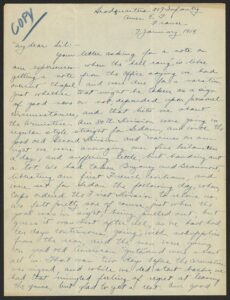 After the war, Powell became a realtor. He died in 1959.
---
The Rutgers War Service Bureau was formed in 1917 as a way to keep Rutgers men serving in the war in touch with Rutgers and each other. It was headed by Earl Reed Silvers (class of 1913), who was assistant to Rutgers president William Henry Steele Demarest. Thanks to a grant from the New Jersey Historical Commission, the letters are now available online.
Be sure to visit What Exit? between November 1 and 11 for new stories and follow highlights on Special Collections and University Archives' Facebook and Twitter.
(With assistance from Tara Maharjan. Powell photo from the Rutgers University Biographical Files: Alumni Collection.)