November 11, 2018 is Veterans Day and marks the 100th anniversary of the Armistice that ended World War I. To commemorate this centennial, What Exit?  will be featuring letters from Special Collections and University Archives' Records of the Rutgers College War Service Bureau. This collection features letters from Rutgers students and alumni who served in the First World War, describing their experiences serving in the United States and overseas. Each day between November 1 and 11, Voices of the Armistice posts will share what these Rutgers students from 100 years ago had to say about the moment when peace was declared.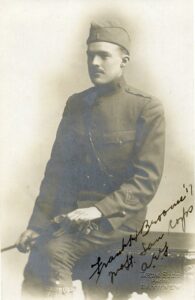 On November 11, 1918 Frank Broome (class of 1917) was serving in the U.S. Sanitary Corps. as part of the American Expeditionary Forces in France. He felt that nothing could adequately capture the celebration he witnessed when peace was declared.
"The people over here went just about crazy when the armistice was signed, I should like to tell you something that went on in the cities near here, but with about a hundred moving picture machines and a few thousand phonographs, I think that you might record the doings in only an extremely small spot. It was something like New Years Eve in New York, a couple of mardi gras, a Sunday afternoon at Coney Island and a few other similar gatherings thrown in one and then some. Luckily the weather was fair for it all."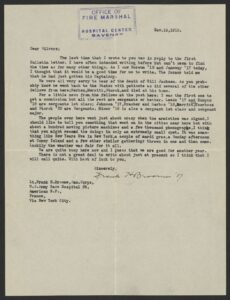 After the war, Broome became an educator and inventor. He died in 1940.
---
The Rutgers War Service Bureau was formed in 1917 as a way to keep Rutgers men serving in the war in touch with Rutgers and each other. It was headed by Earl Reed Silvers (class of 1913), who was assistant to Rutgers president William Henry Steele Demarest. Thanks to a grant from the New Jersey Historical Commission, the letters are now available online.
Be sure to visit What Exit? between November 1 and 11 for new stories and follow highlights on Special Collections and University Archives' Facebook and Twitter.
(With assistance from Tara Maharjan. Broome photo from the Rutgers University Biographical Files: Alumni Collection.)