By Fernanda Perrone, Curator of the William Elliot Griffis Collection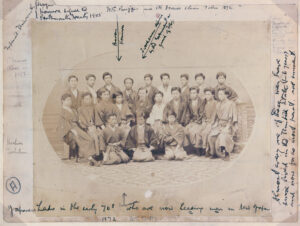 The William Elliot Griffis Collection documents the life, career, and connections of the man who has been described as "the most important interpreter of Japan to the West before World War I." William Elliot Griffis was born in Philadelphia, Pennsylvania in 1843 and attended Rutgers College from 1865 to 1869. At Rutgers, Griffis befriended some of the earliest Japanese students to attend an American college, and developed a lifelong fascination with that country, which had recently opened to Westerners. After graduation, through his Rutgers connections, Griffis was offered the opportunity to teach natural sciences in Japan. Leaving in fall 1870, Griffis spent eleven months teaching in Fukui in western Japan before moving on to a position in Tokyo. He was joined by his sister Margaret, who kept house for him, tutored students, and eventually gained an appointment at the first government school for girls. Although Griffis and Margaret left Japan in 1874, he would spend the next fifty years writing, lecturing, and collecting material about Japan, producing more than 20 books, hundreds of magazine articles, newspaper editorials, and reference book contributions.

As well as keeping diaries and letters from his time in Japan, throughout his life Griffis collected publications, manuscripts, photographs, and ephemera related to Japan and East Asia. Indeed, Griffis' most enduring legacy is his archival collection of over 250 boxes, which was donated to Rutgers after his death on February 5, 1928. Reputedly his wife Sara Griffis filled half a box car of a train with Griffis' collection for the slow journey from his home in upstate New York to New Brunswick. Arrangement and description of the Griffis Collection began as early as the 1930s with a grant from the American Council for Learned Societies. After a hiatus during the Second World War, cataloging resumed with the collection's rediscovery in the 1960s and continued under a succession of curators into the 2000s. A finding aid in paper format was created in 2008, which numbered 288 pages. In the following years, a 69-page inventory of photographs, a 37-page list of oversize materials, and several other sections were completed.

While SC/UA faculty and staff have labored to mark up finding aids using Encoded Archival Description and make them discoverable on the Web, no one had the time or fortitude to attempt the Griffis finding aid. Only during the pandemic, with the uninterrupted time allowed by remote work did Processing Archivist Tara Maharjan take on the challenge of encoding this behemoth. Working closely with Griffis Curator Fernanda Perrone, Tara began work in October 2020 and finished in March 2021. Today the finding aid can be found on the SC/UA website at http://www2.scc.rutgers.edu/ead/manuscripts/griffisf.html, where it is keyword searchable and discoverable by Google. Parts of the collection have also been microfilmed and digitized by Adam Matthew Digital and can be viewed through the Area Studies Japan database. Photographs of early Japanese students at Rutgers can be viewed in RUCore: for example, this portrait. The rare and unique Korean photographs from the collection have been digitized and will ultimately become available for research. Some can be viewed at SC/UA Primary Source Highlights. 
Congratulations and sincere thanks are owed to Tara Maharjan for this amazing accomplishment, which will bring the collection to a wide audience of students, scholars, and interested individuals, stretching from New Brunswick to Japan and beyond.