When the United States entered World War I a century ago, Rutgers transformed into a war college focused on supporting America's war effort. Many students and alumni joined the armed forces. Earl Reed Silvers, assistant to Rutgers president William H. S. Demarest, launched the Rutgers War Service Bureau as a means to keep in touch with Rutgers men in service. This series will feature stories from the War Service Bureau correspondence, offering a window on the impact of the war on Rutgers students and alumni 100 years ago.
At Rutgers: Sports and Serious Illness

As director of the War Service Bureau, Silvers sent biweekly letters to Rutgers men in service. In his first March 1918 Rutgers bulletin Silvers boasted of Rutgers "fairly successful" basketball season, with Paul Robeson as the high scorer. The newsletter also featured updates on baseball, football, and the interclass bowling league.
Silvers's second March War Service Bureau letter carried news of serious illness at Rutgers; the college had almost closed due to a measles epidemic and a student had succumbed to meningitis.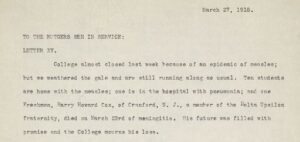 From the Men: Hazards Encountered

In March 1918, two Rutgers men shared harrowing events they had experienced and offered reassurance that they'd come through unscathed. In a letter dated March 17, 1918, William Packard (class of  1918)* described being under a gas attack and shelled.
"I was out behind a battery position when suddenly I heard the familiar whizz which tells of the approach of a shell and, after deciding it was coming my way, I literally dove for the nearest shell hole. It burst about a 100 feet away, and being about a 155 showered everything within 200 yards with splinters . . . they passed safely over me. That evening they shelled the deserted village in which I have my room, and so we had to go under ground."
"For the last hour or so there have been five or six French and two Germans flying above and at intervals of about two minutes they are dropping  big shells just short of this place, the splinters of which light all around."
Despite his immediate surroundings, Packard's next sentence offered that "life is quite pleasant and nowhere as bad as it sounds." He even promised to send shell fragments to Silvers who had asked for souvenirs from the war.
George Bechtel (class of 1914) described a rocky journey to England.
"For three days we were not allowed on deck . . . when we were finally permitted to go out, we found the after deck pretty well messed up. Several of the life boats were wrecked and some civilians in the steerage were literally washed out of their bunks."
Like Packard, Bechtel claimed to be unaffected by his surroundings, declaring, "I slept soundly through it all…."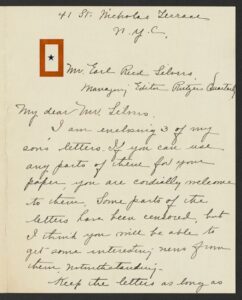 On traveling through England, Bechtel noted it was, "strange to see women in overalls working beside the men . . . but they make you realize how much everybody is in the war."
To Learn More
The Rutgers College War Service Bureau collection has been digitized with assistance by a grant from the New Jersey Historical Commission, a division of the Department of State. A finding aid describing collection is available and provides links to the digitized materials. 
*At the time of writing, Packard was identified as Class of 1918, but due to his absence during the war, graduated in 1921.