When the United States entered World War I a century ago, Rutgers transformed into a war college focused on supporting America's war effort. Many students and alumni joined the armed forces. Earl Reed Silvers, assistant to Rutgers president William H. S. Demarest, launched the Rutgers War Service Bureau as a means to keep in touch with Rutgers men in service. The Rutgers in the First World War series features stories from the War Service Bureau correspondence, offering a window on the impact of the war on Rutgers students and alumni 100 years ago.
At Rutgers: Rubber Cement and a College for Women
The April 10, 1918 War Service Bureau letter to men in service shared the news that director Earl Reed Silvers had recently "enjoyed the companionship of an infected boil on the back of his neck." During Silvers's absence from work, his assistant handled his correspondence. One tell-tale sign of this period for archivists working on the War Service Bureau Collection was that the assistant began using rubber cement to attach soldiers' correspondence to copies of replies. The rubber cement was removed before digitization, but signs of its removal are evident.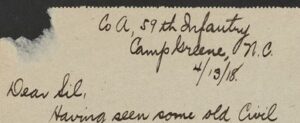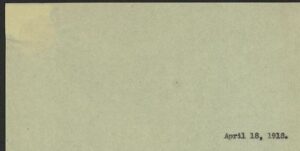 The April 24, 1918 letter to the men in service announced big changes at Rutgers.
"In the meeting of the Board of Trustees last week, it was decided to establish a Woman's College as a department of the State University. The property of Mrs. John N. Carpender, on George Street, near College Farm, will be rented or purchased; and it is hoped that classes will be started in September."
The New Jersey College for Women, now known as Douglass College, opened in September 1918 and is currently celebrating its 100th anniversary.
From the Men: In the Air and in the Future

August L. Grimme (Class of 1918) wrote from England to share his experiences flying a two-seater plane. He described flying to an "aerodrome" for tea and seeing "all types of aeroplanes and airships, large and small," noting "One of the largest ones would put half the town over a shadow if it flew over Irvington." He described his view on the flight back:
"Had quite a trip coming back home, for clouds had come up and were so low that I had to fly at about a hundred feet up. Scooted over the tops of trees and farmhouses and waved to the farmers and people along the roads."
David (Dave) Abt (Class of 1917) got in touch in April 1918 to send along some "papers" (possibly newspapers or camp papers) for Rutgers to hold in its archives.
"Having seen some old Civil War Papers in the Library I thought that these few might be of interest to Rutgers students in 1975."
Although it isn't clear if the papers Abt sent are still held by the archives, his thought of future generations is appreciated.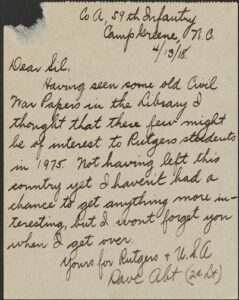 [with assistance from Tara Maharjan]
To Learn More
The Rutgers College War Service Bureau collection has been digitized with assistance by a grant from the New Jersey Historical Commission, a division of the Department of State. A finding aid describing collection is available and provides links to the digitized materials.