November 11, 2018 is Veterans Day and marks the 100th anniversary of the Armistice that ended World War I. To commemorate this centennial, What Exit?  will be featuring letters from Special Collections and University Archives' Records of the Rutgers College War Service Bureau. This collection features letters from Rutgers students and alumni who served in the First World War, describing their experiences serving in the United States and overseas. Each day between November 1 and 11, Voices of the Armistice posts will share what these Rutgers students from 100 years ago had to say about the moment when peace was declared.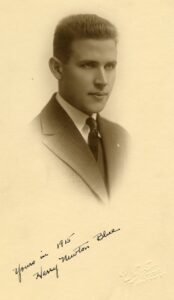 Harry Blue (class of 1915) was serving with the American Expeditionary Forces in France when news of the Armistice arrived. He described his experiences in a letter to War Service Bureau director Earl Reed Silvers.
"Early on the morning of the 11th the news came, as all news in the army does—good or bad, from nowhere. I hurried down to Hdqtrs. bulletin board meeting others doing likewise. There was Marshal Foch's order. After 11 o'clock all fighting was to cease.  
Although in the Zone of Advance, we were not near enough to hear the gun play and hence didn't experience that drilling unnatural silence which followed the stroke of eleven at the front. But colors appeared like magic and all wore a happy, anxious-to-tense smile. As a rule, there was personal regret that we were not to see action after so much time and energy spent in preparation. But the fact that the world had at last awakened from a four-year nightmare cause us to shelve this feeling and be happy for humanity's sake. 
. . . we of the aviation school gave the greatest exhibition of what intoxicated men could do without, however, touching a drop. 
. . .  The Observers of my class tossed to see who were to have the honor of playing around + over camp in Sopwiths' [airplanes] that morning . . .
I pulled a lucky guess and won a place in Number Eight. There were six planes in all. We skipped chimney pots, swooped down between barracks, missed electric wires by inches and clipped some leaves off a staunch, old tree.  
Of course everyone came out to see the crazy airmen. Such foolishness was to be seen but once in an age. At least the "Wildcats" thought so. They sure had us pictured as "tight." 
But each time we zoomed, they'd cheer, not particularly for us, but because they were happy. Then some started throwing caps in air and I almost believed I was seeing a Rutgers' football celebration 'apre le Victoire.'"

Blue then drew a picture of an electric sign he'd seen that commemorated the Armistice:

"peculiarly enough, made me think of an eleven-eleven train I was wont to catch at Metuchen!
In the evening at five-o'clock there was much ringing of churchbells and cheering in the villages near-by. We sent a plane over each village to help out, shooting up our available supply of six-star rockets. But a new order of things takes time to sink in. Some Frenchie, a bad shot, started peppering one of our ships with a rifle."
After the war, Blue became an officer in the Army. He died in 1925.
---
The Rutgers War Service Bureau was formed in 1917 as a way to keep Rutgers men serving in the war in touch with Rutgers and each other. It was headed by Earl Reed Silvers (class of 1913), who was assistant to Rutgers president William Henry Steele Demarest. Thanks to a grant from the New Jersey Historical Commission, the letters are now available online.
Be sure to visit What Exit? between November 1 and 11 for new stories and follow highlights on Special Collections and University Archives' Facebook and Twitter.
(With assistance from Tara Maharjan. Blue photo from the Rutgers University Biographical Files: Alumni Collection.)