November 11, 2018 is Veterans Day and marks the 100th anniversary of the Armistice that ended World War I. To commemorate this centennial, What Exit?  will be featuring letters from Special Collections and University Archives' Records of the Rutgers College War Service Bureau. This collection features letters from Rutgers students and alumni who served in the First World War, describing their experiences serving in the United States and overseas. Each day between November 1 and 11, Voices of the Armistice posts will share what these Rutgers students from 100 years ago had to say about the moment when peace was declared.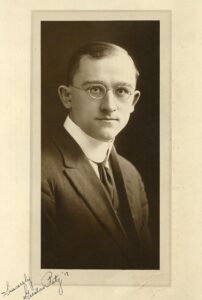 Gustav Patz (class of 1917) was serving at the war prison barracks at Fort Oglethorpe, in Georgia by the Tennessee border near Chattanooga. Patz explained that they had received word that peace might be coming, but everyone was waiting for an official declaration to celebrate.
"The 'Chattanooga Times' the local newspaper, announced through its columns it would start the noise, within one minute after it had received the news over the wire. For this purpose some bombs were planted on the roof of the newspaper building and everything was ready for the big event.

It was on the morning of November 11th about 1:15 (central time) when I was awakened by the sound of repeated detonations—it didn't take me a second to guess that the 'Times' had lived up to its promise to start the big noise, and that a glorious peace was at last in sight. Chattanooga is about nine miles distant from here, but out at Oglethorpe we could hear everything as if we had been actually in town. The bombs of the 'Times' gave the signal for a pandemonium of whistles, sirens, bells, and all other noise making devices ever contrived by the hand of man. And this 'racket' was audible until nearly nine o' clock the same morning in spite of the distance. 
At the various training camps there was high jinx. Everybody woke up, rushed out in all states of dress and undress—parades were organized, effigies of Kaiser Will strung up and buried and goodness knows what not else. . . . Everybody was supremely—sleep was out of the question. Without an exception the men were relieved from duty for a half day, band concerts were given, the Y's put on all kinds of amusements, including boxing matches, rough and tumble games—anything that would give the men the opportunity to work off steam.  And it was all a howling success.
At the war prison barracks, the news was received quietly both by guards and prisoners. There were no demonstrations of any kind—in a place like ours discipline had to be maintained."


After the war, Patz became a school principal. He died in 1953.
---
The Rutgers War Service Bureau was formed in 1917 as a way to keep Rutgers men serving in the war in touch with Rutgers and each other. It was headed by Earl Reed Silvers (class of 1913), who was assistant to Rutgers president William Henry Steele Demarest. Thanks to a grant from the New Jersey Historical Commission, the letters are now available online.
Be sure to visit What Exit? between November 1 and 11 for new stories and follow highlights on Special Collections and University Archives' Facebook and Twitter.
(With assistance from Tara Maharjan. Patz photo from the Rutgers University Biographical Files: Alumni Collection.)