November 11, 2018 is Veterans Day and marks the 100th anniversary of the Armistice that ended World War I. To commemorate this centennial, What Exit?  will be featuring letters from Special Collections and University Archives' Records of the Rutgers College War Service Bureau. This collection features letters from Rutgers students and alumni who served in the First World War, describing their experiences serving in the United States and overseas. Each day between November 1 and 11, Voices of the Armistice posts will share what these Rutgers students from 100 years ago had to say about the moment when peace was declared.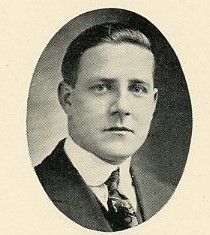 Lewellyn Pratt (class of 1921) was serving with the American Expeditionary Forces. He had left Gibraltar and was traveling to England on a tossing ship when he learned of the Armistice that ended the war.
"Rumors had it that it would be our last trip to England.
Hoping for the best, but little expecting it, we sailed out and encountered a heavy sea, which is very common along this coast.
For four days along the coast of Spain and Portugal, we tossed and rolled, then the seas became somewhat calmer.
Such a voyage is bound to make the crew more or less depressed and this time was no exception.
Early in the morning of the eleventh, we had the news by press that the armistice was to be signed at eleven A.M.
So accustomed to rumors, we little believed this to be true, but shortly after eleven we received the news and all the crew let forth a loud uproar of cheers.
Depression was laid aside and enthusiasm reigned from bow to stern.
The ship could roll all it wished now but no one could be down hearted after that."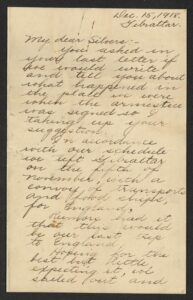 Pratt became a counseling psychologist for the United States Veterans Administration. He died in 1958.
---
The Rutgers War Service Bureau was formed in 1917 as a way to keep Rutgers men serving in the war in touch with Rutgers and each other. It was headed by Earl Reed Silvers (class of 1913), who was assistant to Rutgers president William Henry Steele Demarest. Thanks to a grant from the New Jersey Historical Commission, the letters are now available online.
Be sure to visit What Exit? between November 1 and 11 for new stories and follow highlights on Special Collections and University Archives' Facebook and Twitter.
(With assistance from Tara Maharjan.  Pratt's photo from the 1922 Rutgers College Yearbook.)